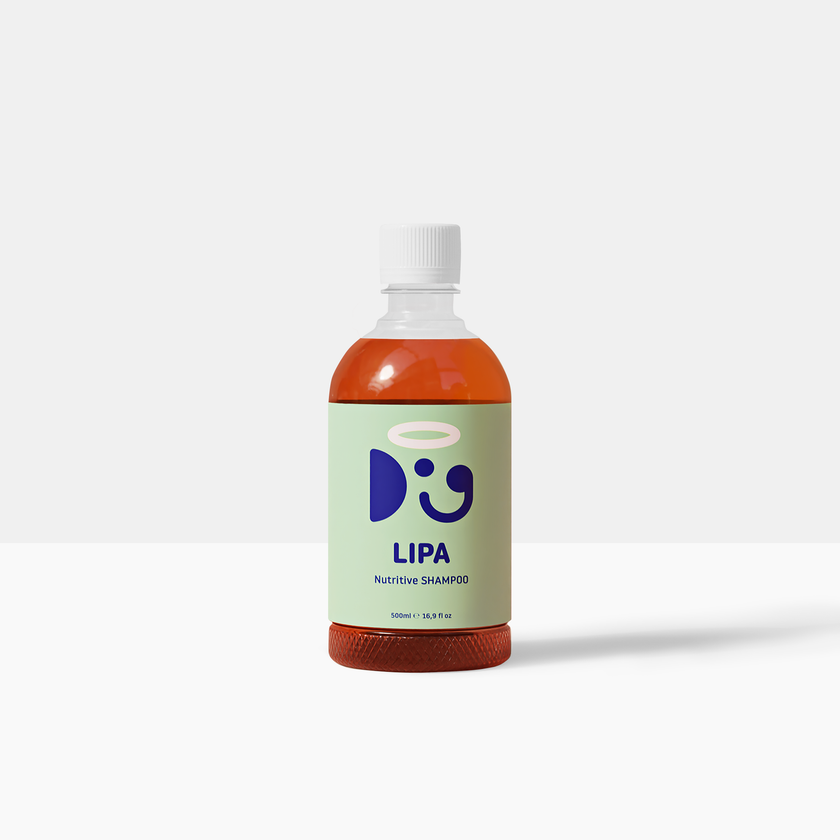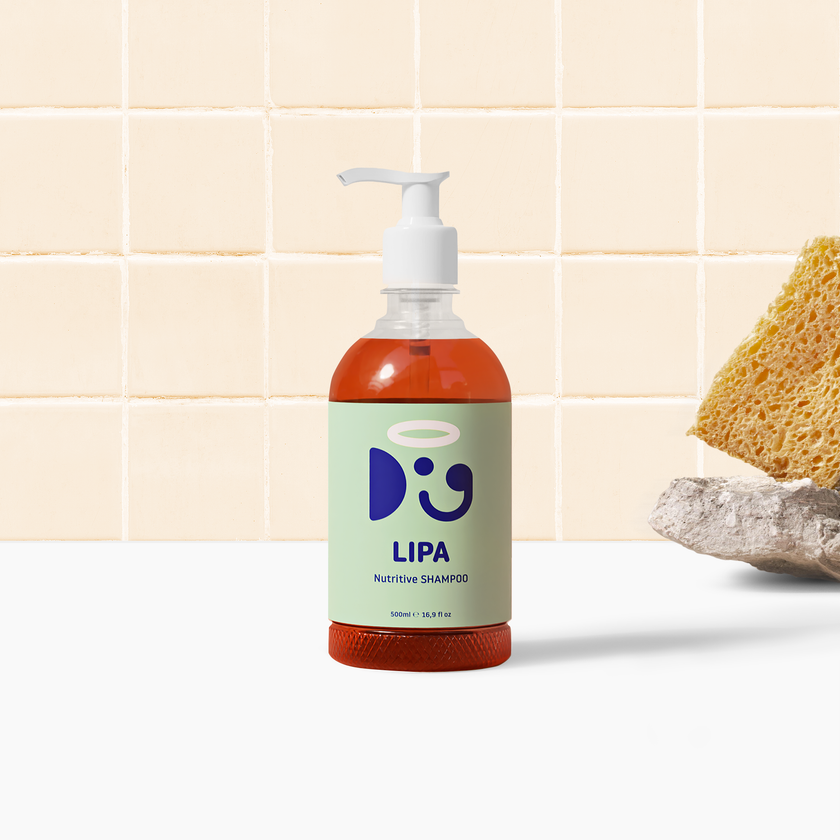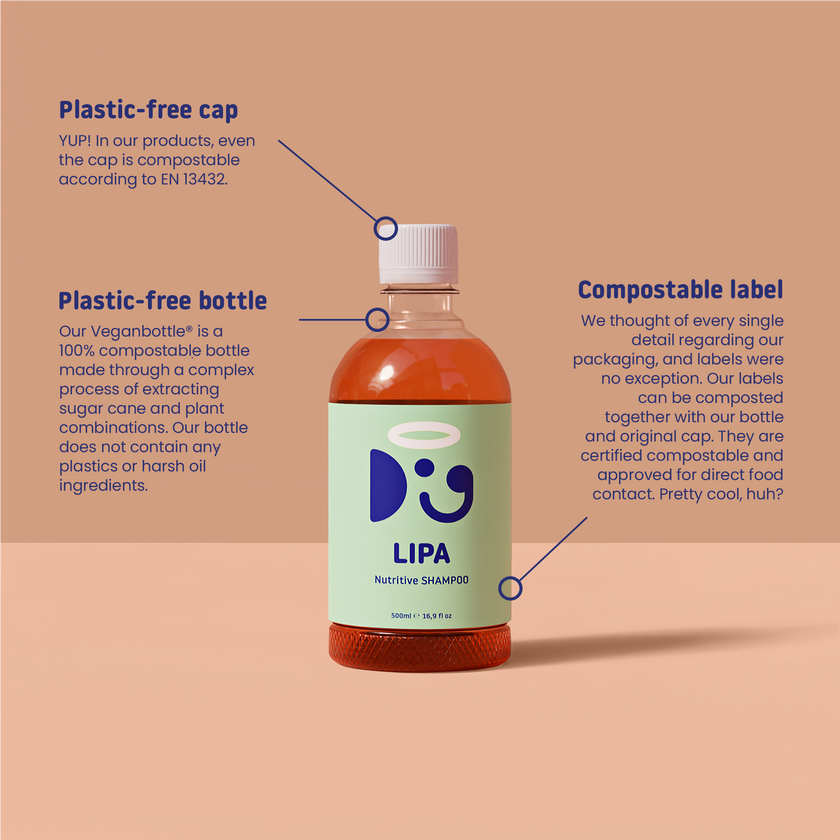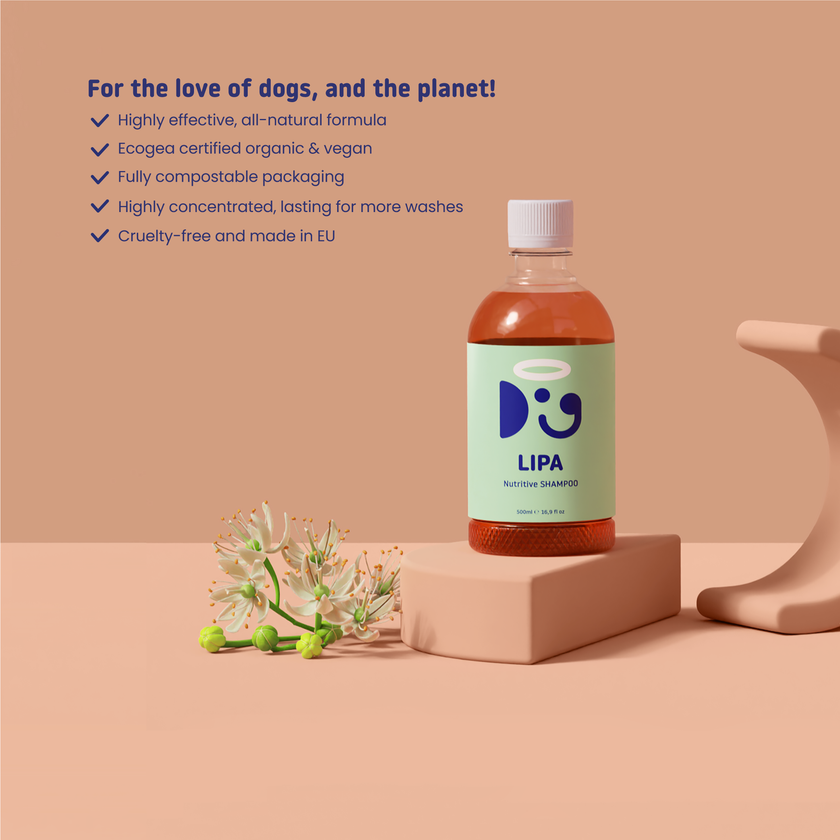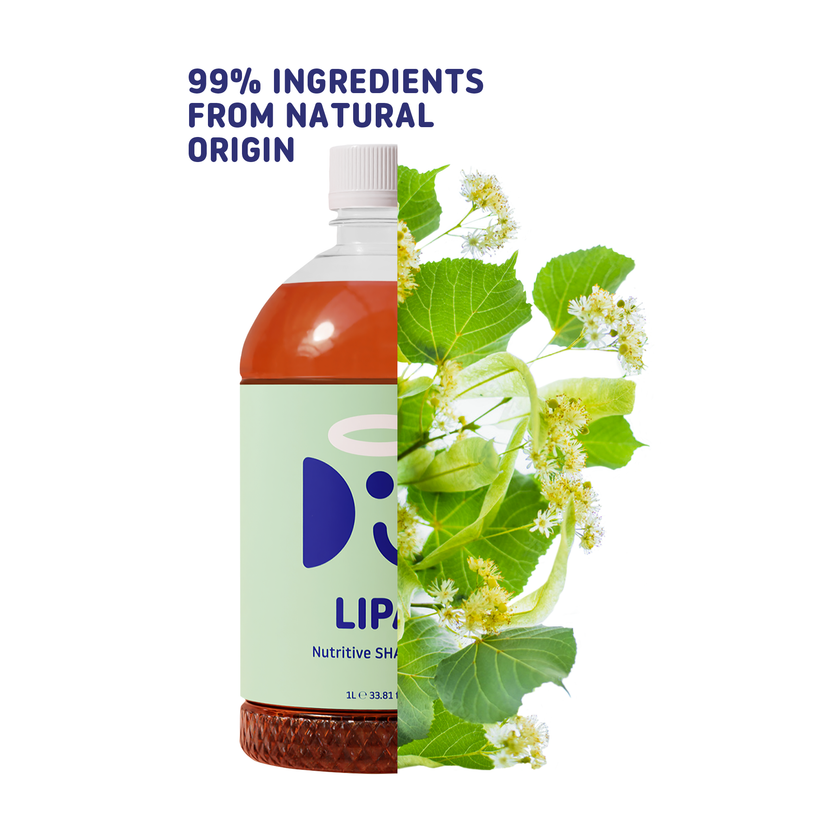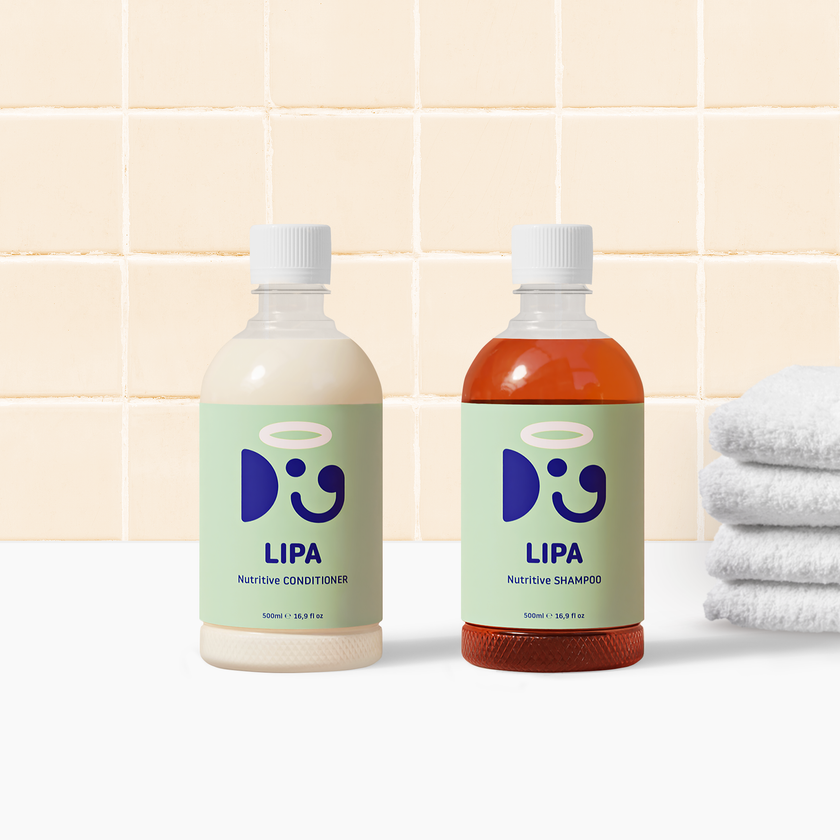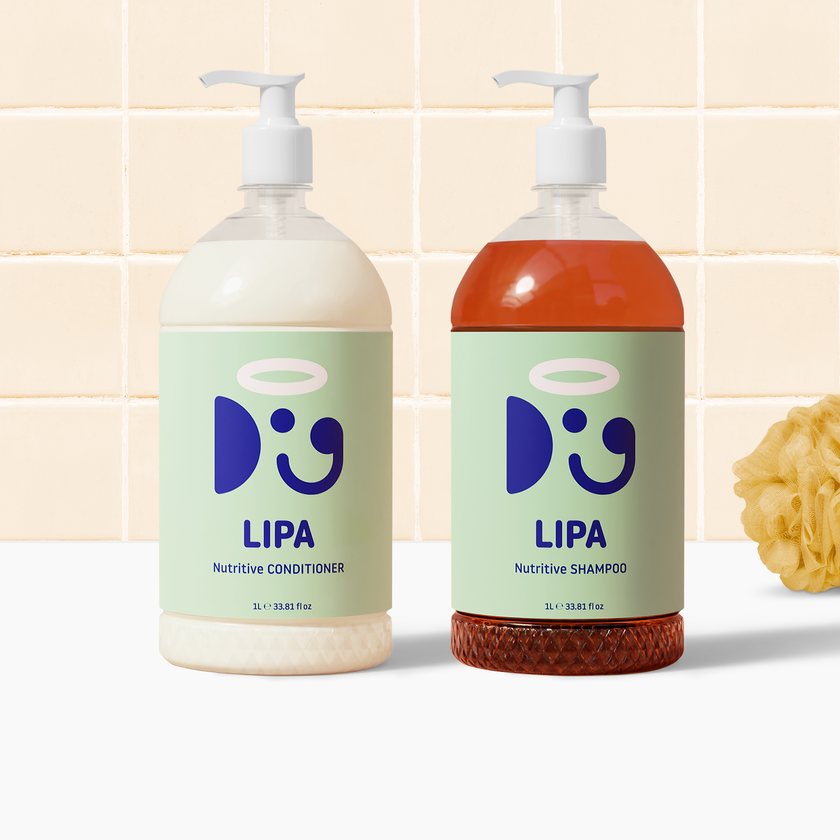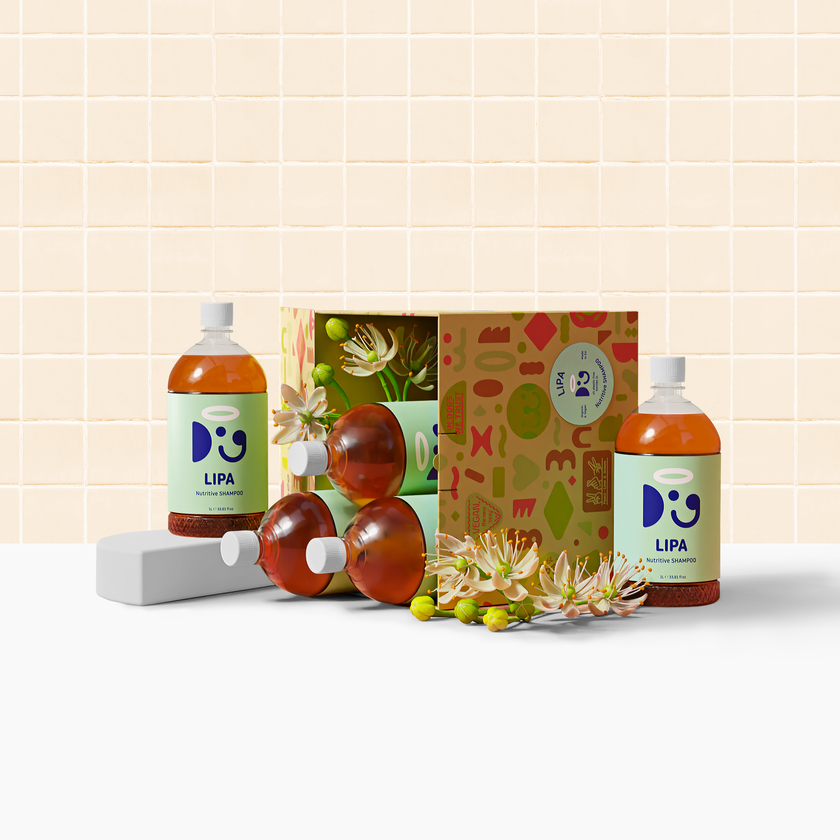 LIPA NUTRITIVE SHAMPOO | Unleash the Power of Deep Nourishment
Here is a detailed explanation of how to use the shampoo effectively:
To prepare the shampoo, combine it with lukewarm water in a dilution ratio of up to 1:35. The amount of dilution may vary based on the dirtiness level and the coat type. Mix the shampoo and water well until it forms a creamy foam.
Apply the shampoo liberally onto a wet coat, ensuring thorough coverage. For best results, gently massage the shampoo into the coat for 3-5 minutes. This allows the nourishing botanicals to penetrate deeply and work their magic.
After massaging, rinse the coat thoroughly with water, ensuring all the shampoo is washed out. If necessary, you can repeat the process for a more thorough cleanse.
In the case of a very damaged or dirty coat, you can use a less diluted shampoo to provide stronger cleaning power.
By following these instructions, you can maximize the benefits of the shampoo and achieve optimal results for your dog's coat.
INCI
Aqua*, Aloe Barbadensis Leaf Juice*/**, Glycerin*/**, Lauryl Glucoside*, Coco-Glucoside*, Hydroxypropyltrimonium Inulin*, Capryloyl/Caproyl Methyl Glucamide*, Lauroyl/Myristoyl Methyl Glucamide*, Cocamidopropyl Betaine*, Polyglyceryl-10 Caprylate/Caprate*, Sodium Chloride*, Glyceryl Oleate*, Hydrolyzed Vegetable Protein*, Sodium Benzoate, Tilia Tomentosa Bud Extract*/**, Potassium Sorbate, Citric Acid*, Chamomilla Recutita Flower Extract*, Cetraria Islandica Extract*, Propylene Glycol*, Crambe Abyssinica Seed Oil*, Phytosterols*, Oleyl Alcohol*, Pca Glyceryl Oleate*, Dehydroacetic Acid, Benzyl Alcohol, Fragrance* (Allergen-Free Composition)
* Ingredients From Natural Origin (99,0 %)
** Ingredients From Organic Agricultural Sources (23,5 %)
Certified organic and vegan by Ecogea.org
Indulge in the remarkable benefits of our carefully chosen key active ingredients, each infused with love and selected for their extraordinary qualities:
TILIA TOMENTOSA BUD EXTRACT: Soothes, moisturizes, and provides protective benefits for your dog's coat.
GLYCERINE (PLANT-DERIVED): Restores moisture and safeguards the coat, promoting a healthy and hydrated appearance.
CHAMOMILE FLOWER: Enhances hair strength and helps maintain optimal pH levels for a balanced and revitalized coat.
ALOE VERA: Nourishes, hydrates, and soothes the coat, promoting overall health and well-being.
AGAVE INULIN: Repairs follicles and reduces static, leaving the coat smooth, manageable, and tangle-free.
CRAMBE ABYSSINICA SEED OIL: Boosts hair and skin elasticity, adding shine and improving overall texture.
CETRARIA ISLANDICA FLOWER: Gently cleanses, soothes, and provides protective properties, ensuring a healthy and vibrant coat.
PHYTOSTEROLS: Stimulates hair growth, promoting a luscious and fuller-looking coat.
Organic and vegan certified by Ecogea.org
≥ 99% Ingredients from natural origin
Filled in 100% compostable Veganbottle®
Tearless, hypoallergenic ingredients
Allergen-Free fragrance
Promotes overall coat and skin health
Increases coat thickness
Beneficial for all coats and skin types
Highly concentrated – Follow the user´s instructions for the best results on the original product´s listing
WHAT´S NOT IN IT
GMOs and cancerogenic substances

Ethanolamine Compounds (MEA, DEA, TEA, and others)
Mineral Oils

Parabens

Petrochemicals

Phenoxyethanol

Phthalates

Polyethylene Glycol (PEG)

Propylene Glycol (PPG)

Silicones

Sulphates

Synthetic Dyes
Triclosan
Why a "NO Nasties pledge"?
We firmly believe that investing in quality and certified organic products for your pet means investing in their health to ensure prosperity and well-being.
Specifically, we're proud to say that all Doglyness products are free from any of the ingredients listed here, which are instead common in most commercial pet shampoos and conditioners, and that can turn out to be harmful in the long run.
JOIN OUR PLASTIC-FREE MISSION: RESPONSIBLE PACKAGING
We are proud to be the first pet brand in the industry that uses the patented Veganbottle®, a revolutionary packaging made from 100% raw compostable materials, including bottle caps and labels. Our commitment to sustainability extends beyond the bottle itself, as we actively combat plastic pollution by banning non-sustainable materials throughout our entire production, packaging, shipping, and storage processes.
Learn more about our Plastic-Free pledge and discover how we're making a positive impact on the environment. When you place an order, plastic pumps and closures will be provided separately at no extra cost with your first purchase. We encourage you to save and reuse these pumps and closures for future orders, as we strive together towards a plastic-free future and a greener planet.
The Doglyness Way
At Doglyness, we see it as our duty and responsibility to do everything within our power to offer you the most sustainable option for all your pet grooming needs. The pet grooming industry has traditionally had a rather large footprint, and we know we can—we must—do better! This is why we've done our research and found effective ways to deliver the highest quality products without costing the Earth. For Doglyness, effective natural dog products go hand in hand with respect for people, animals, and nature.
Waooo
"I'm amazed! I've never experienced such a great product before. You don't expect a product to make such a significant difference from the first use. But Lipa does! I'm in love with the product. I also want to commend the customer service I've experienced. I have a bathing pump and was unsure about how to use the product with the bathing pump, but I received quick help. Thank you."
Gamechanger for Boris
We had been using immortelle rejuvenating shampoo and conditioner on our standard poodle Boris since august of 2022 and were very pleased with the results since he has a thick coat which needs a lot of maintenance and attention. Since then we had also been growing him out in continental and felt like he needed that bit more nourishment. Enter lipa! 🤩 in lipa his coat is even softer while maintaining texture and it survives the wrapping every single week. We have found a great balance between using lipa on maintenance weeks and immortelle on show weeks and are blown away by the results. 100 out of 5 stars 😍
A magic wand for drop coats!
My Shih tzu is often full coated everywhere except his body. He likes to burrow in blankets, ruin his bands, etc. I washed him with the Lipa shampoo and conditioner, and his coat looks thicker, feels flawless, and makes the rest of the grooming process a breeze! I am now tracking his coat progress and I can't wait to see how his coat looks by the end of the year. I'm so happy to see the dog grooming community rave about this fabulous company.
magic meringue
I love this shampoo! I got it just to try it out and I used it on my silver standard poodle who is bathed weekly. I assumed he may have a bit of damage to his coat since I bath and blow dry him for show so often. I used the same amount of shampoo as I do with Immortelle and Oats (12 pumps) in my tub with a submersible pump, which makes the product go a lot further. The foam that was created by the pump was just like whipped egg whites. It felt like meringue! It was so rich, creamy and smooth and spread on his shaved parts like I was coating him in icing. And it smells delicious too! His coat came out quite strong but nourished. I was able to scissor him, which I wouldn't have expected but saw someone else do so thought I'd give it a try. It worked well. It's a great product for a coat like a silver because sometimes the Immortelle is just too nourishing but with this product at least I know I'm not drying him out, but I still get the strength into his hair.
Highly concentrated & highly effective.
This is my go-to for every Brillo pad type coat that's lost all its luster or has seen a lot of neglect. Paired with the conditioner, it makes a lovely deshedding treatment, as well, and reversed damage in even my own hair. I've never been able to grow my fine hair past my shoulders without the ends drying out and looking unhealthy, and my hair is well past my shoulders and is fuller than it's ever been. Wonderful addition to the Doglyness line and very cost effective with its dilution ratio.