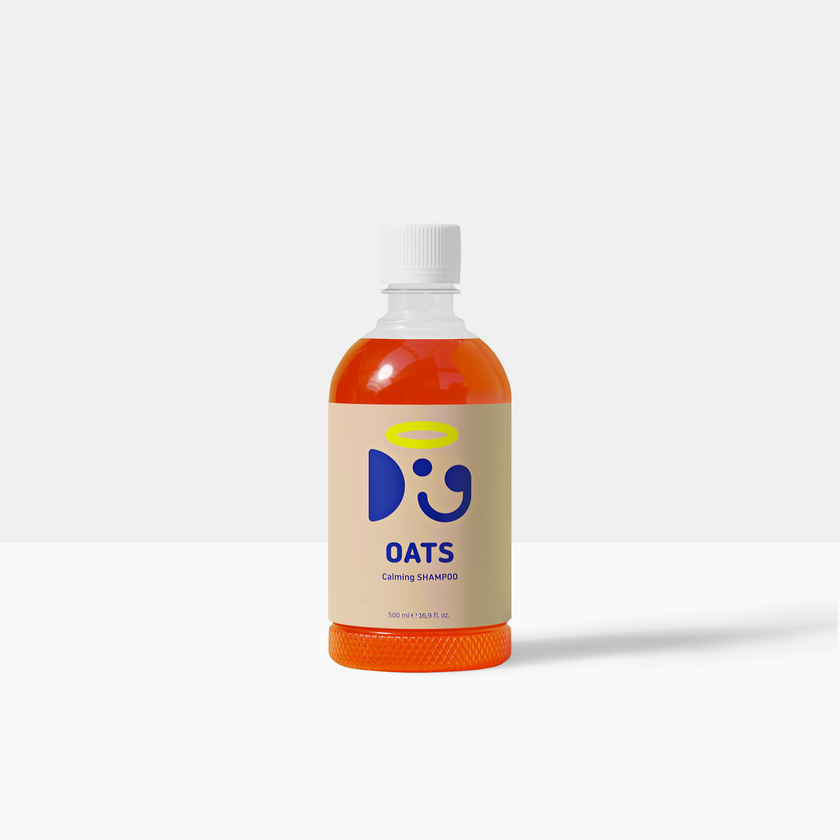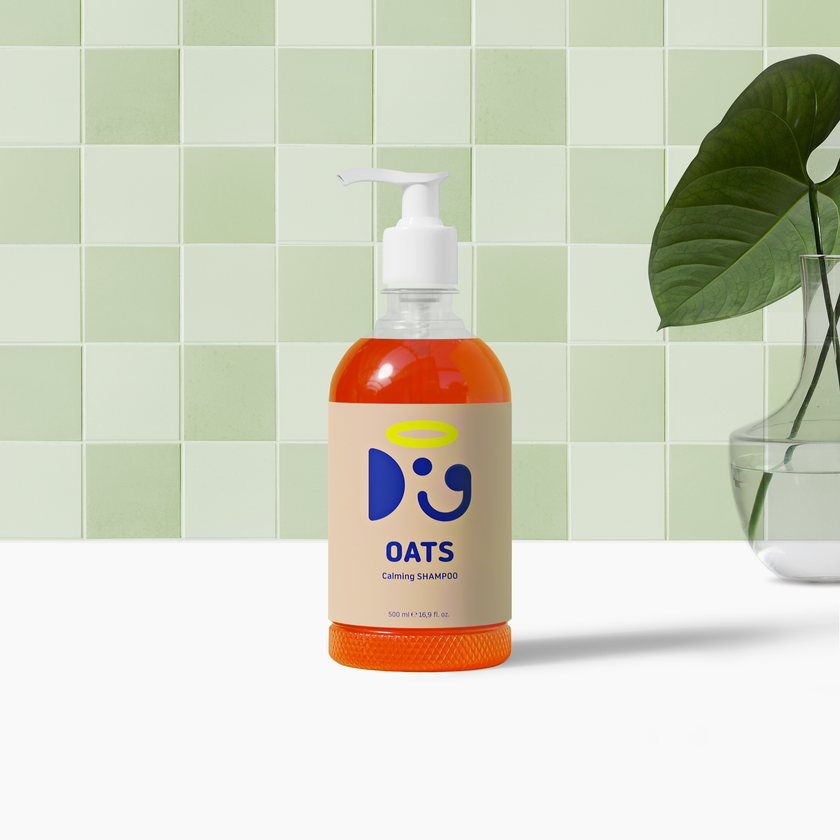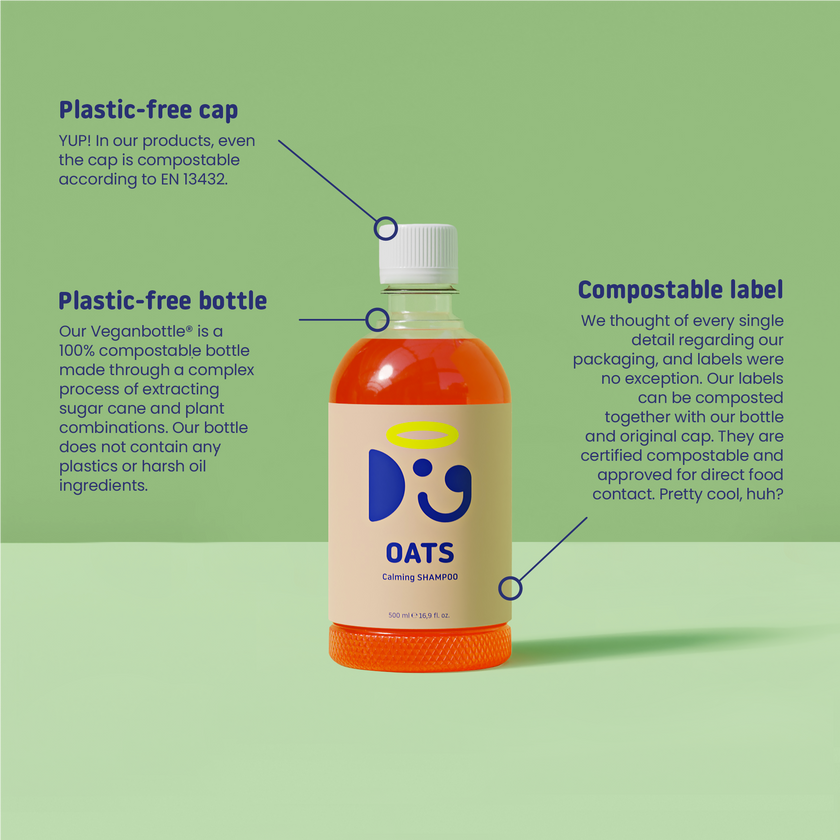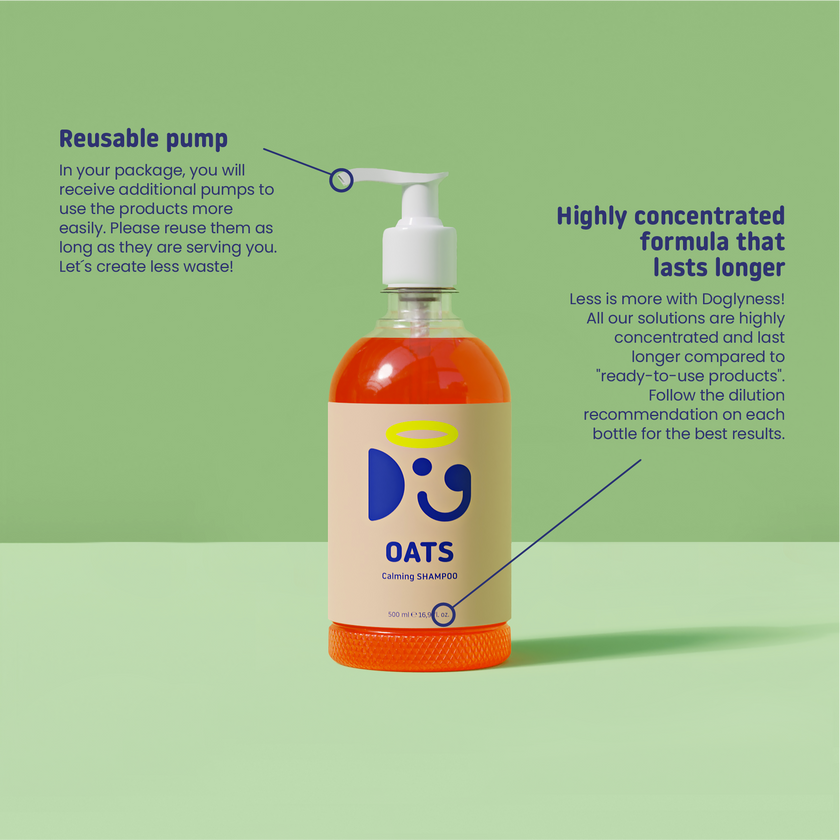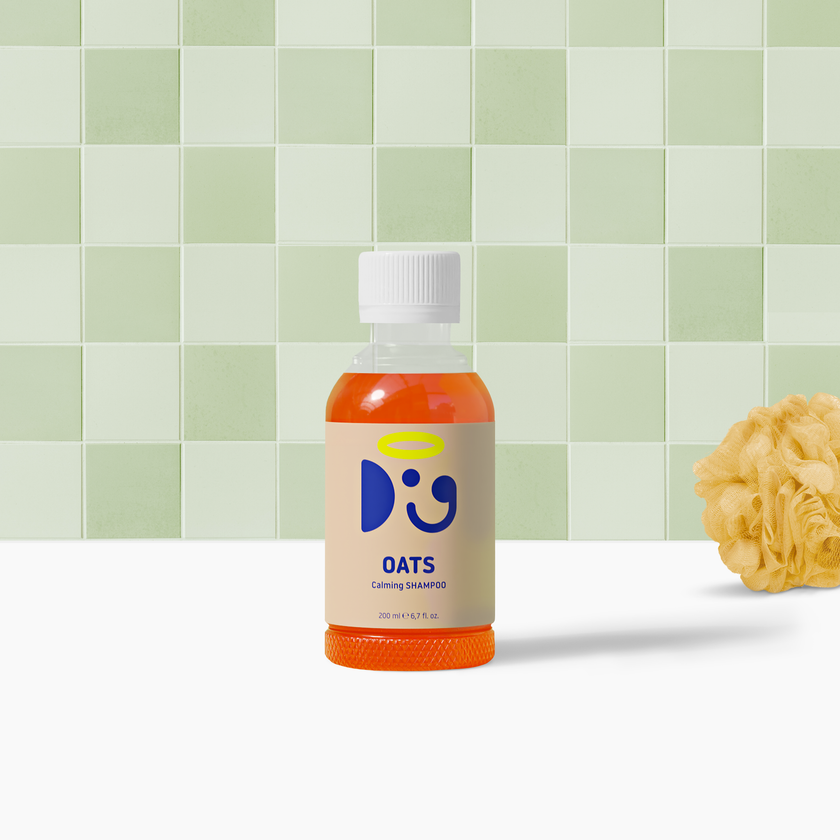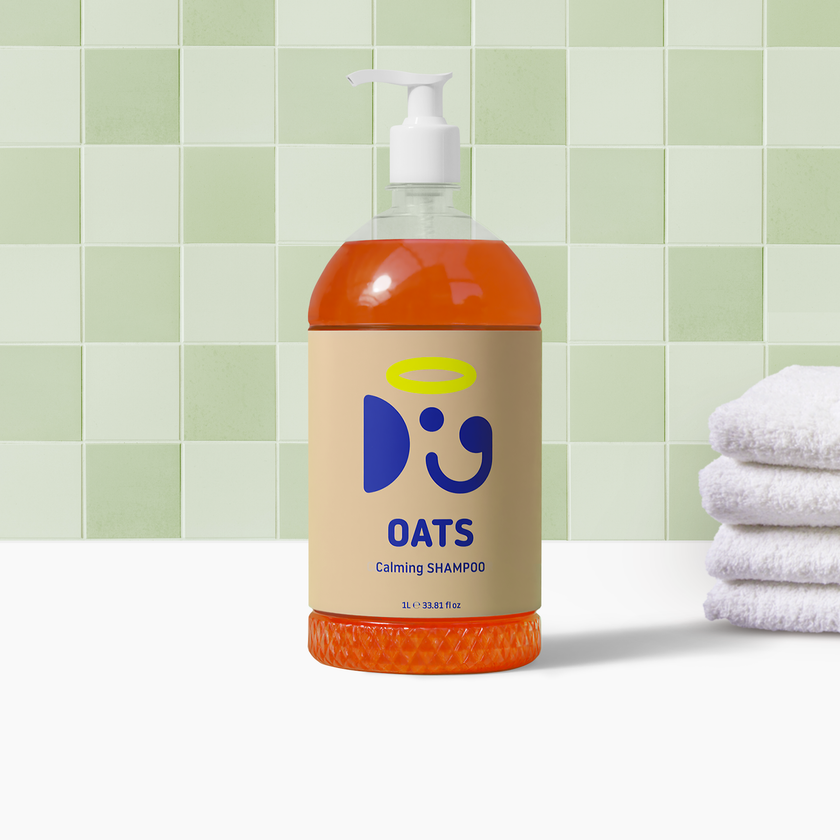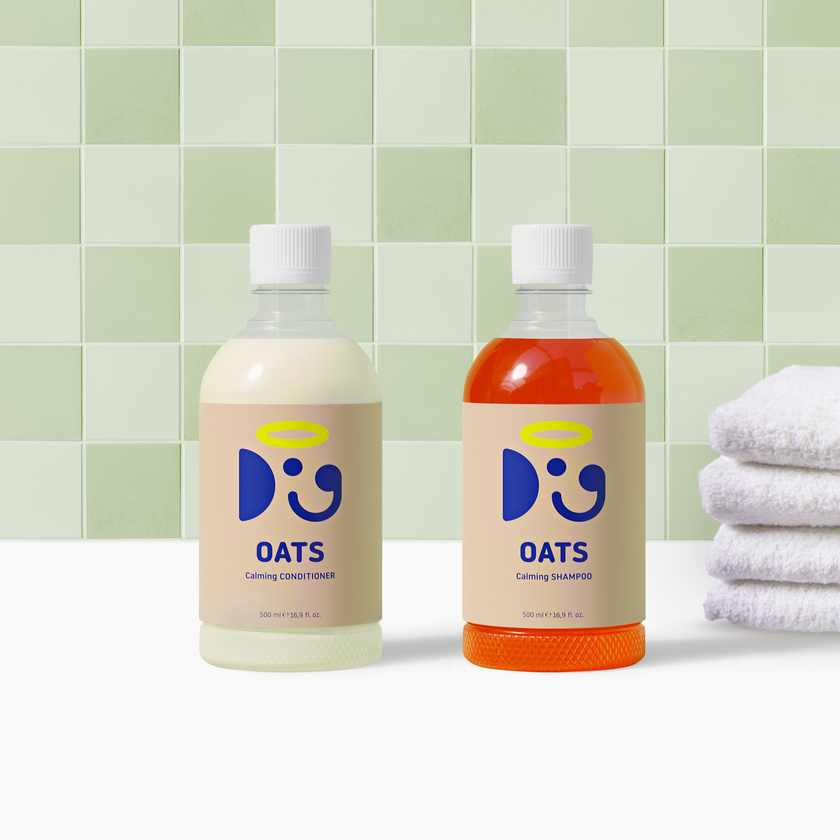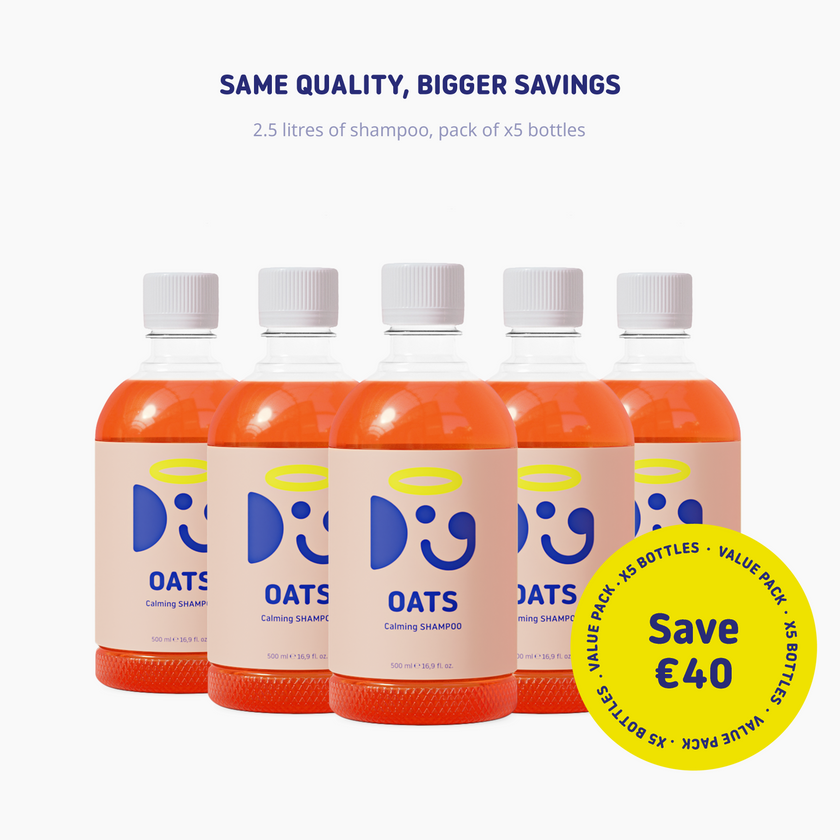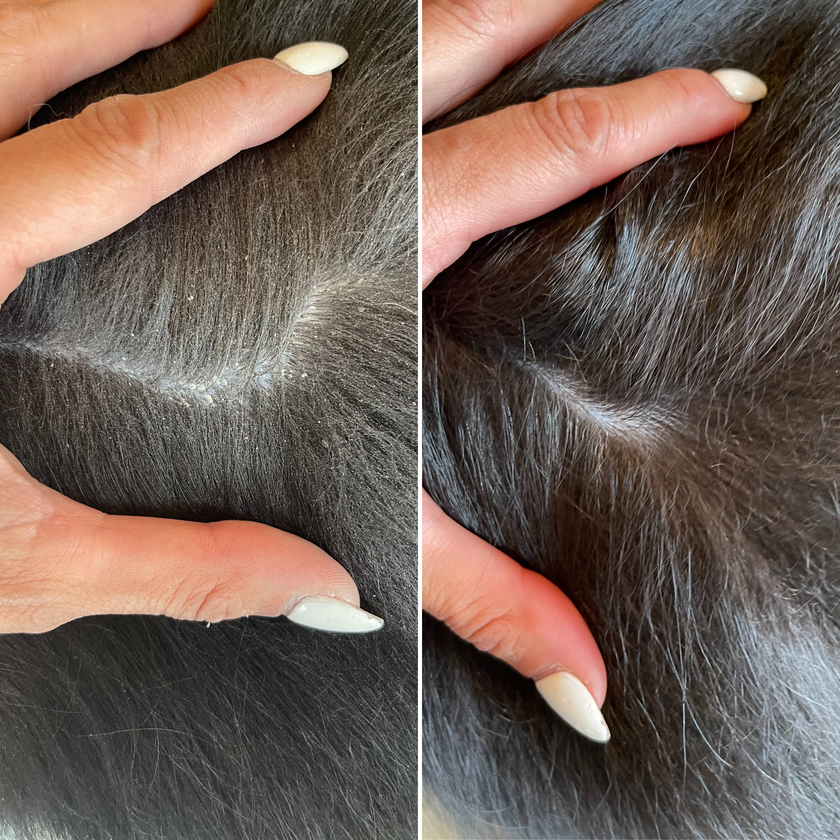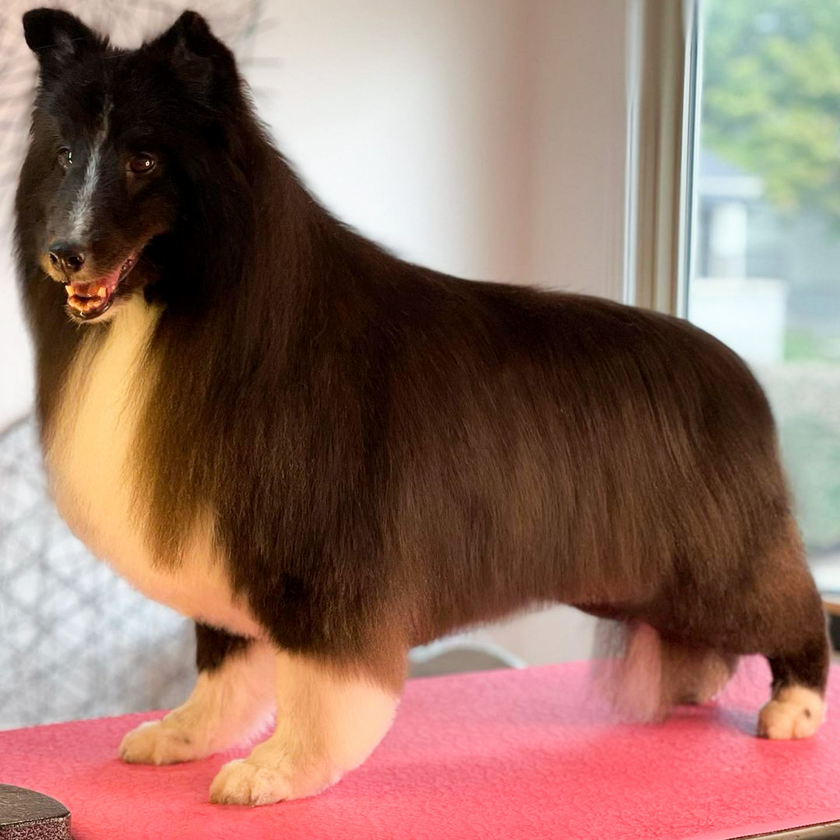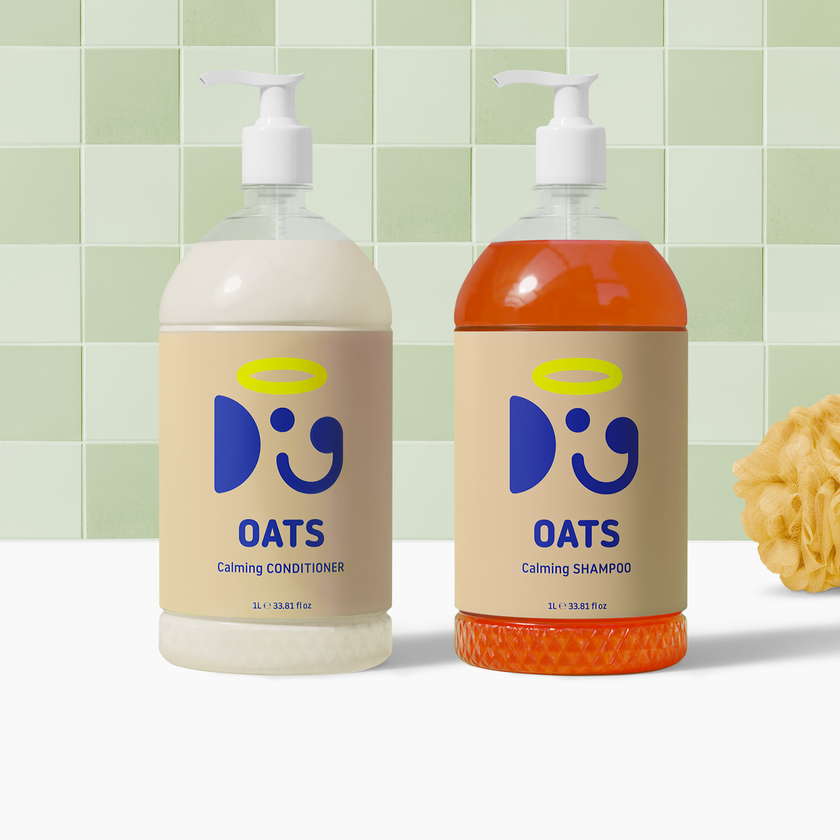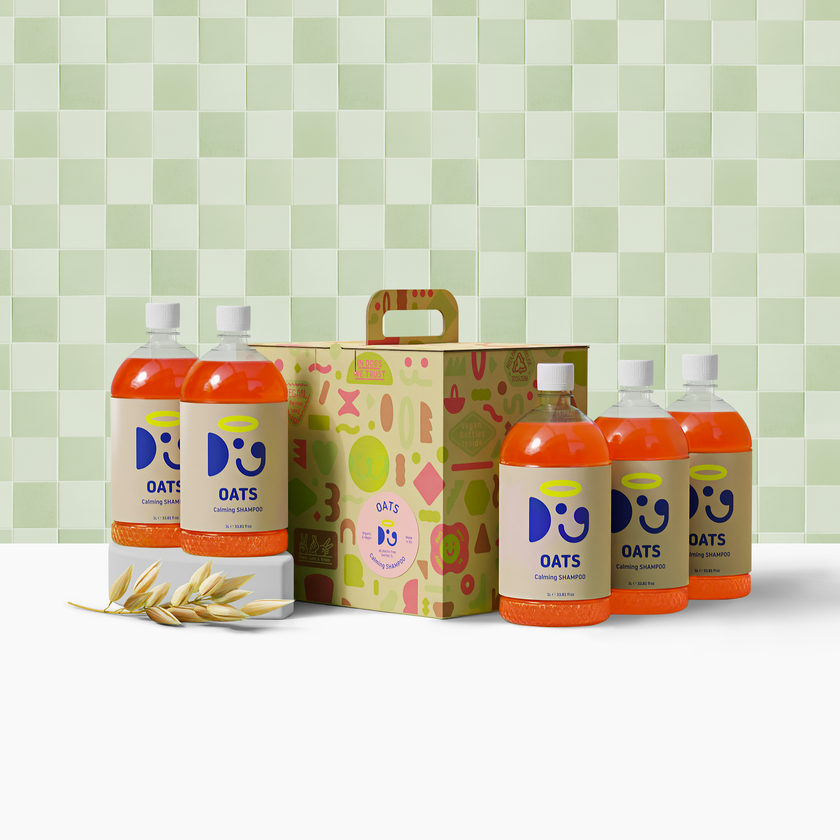 OATS CALMING SHAMPOO | Gentle Care for Sensitive Dog Skin
Here is a detailed explanation of how to use the shampoo effectively:
Dilution: Prepare the shampoo by mixing it with water in a dilution ratio ranging from 1:20 up to 1:25. Adjust the dilution based on the level of dirtiness and the type of coat. Ensure thorough mixing to create a creamy foam consistency.
Application: Apply the shampoo generously onto a wet coat, ensuring complete coverage. The rich lather will effectively cleanse and nourish the fur.
Massage: For optimal results, gently massage the shampoo into the coat for 3-5 minutes. This allows the botanical ingredients to penetrate deeply, promoting a soothing and revitalizing experience.
Rinse: Thoroughly rinse the coat with water, ensuring all shampoo residue is removed. Repeat the process if necessary, especially for heavily soiled coats.
Concentration: If dealing with a particularly dirty coat, you may use a less diluted shampoo for more potent cleansing power.
Follow these directions to ensure the full benefits of our Oats Calming Shampoo and leave your furry friend's skin and coat clean, soothed, and refreshed.
INCI
Aqua*, Aloe Barbadensis Leaf Juice*/**, Lauryl Glucoside*, Coco-Glucoside*, Glycerin*/**, Cocamidopropyl Betaine*, Capryloyl/Caproyl Methyl Glucamide*, Lauroyl/Myristoyl Methyl Glucamide*, Hydroxypropyltrimonium Inulin*, Polyglyceryl-10 Caprylate/Caprate*, Glyceryl Oleate*, Colloidal Oatmeal*, Benzyl Alcohol, PCA Glyceryl Oleate*, Fragrance (Allergen-Free Composition)*, Crambe Abyssinica Seed Oil*, Sodium Chloride*, Dehydroacetic Acid, Citric Acid*, Phytosterols*, Oleyl Alcohol*
* Ingredients from natural origin (98,5%)
** Ingredients from organic agricultural source (20%)
Certified organic and vegan by Ecogea.org
Indulge in the remarkable benefits of our carefully chosen key active ingredients, each infused with love and selected for their extraordinary qualities:
COLLOIDAL OATMEAL (GLUTEN-FREE): Creates a protective barrier, binds moisture, and soothes inflammation for a calmer skin.
ALOE VERA: Provides soothing properties, aids in healing, and deeply hydrates the skin.
GLYCERINE (PLANT-DERIVED): Restores moisture to the skin and acts as a protective barrier against dryness.
AGAVE INULIN: Repairs hair follicles, combats frizz, and promotes healthier-looking coats.
CRAMBE ABYSSINICA SEED OIL: Enhances hair and skin elasticity for improved resilience.
PCA GLYCERYL OLEATE: Maintains optimal moisture levels in the skin, improving overall hydration.
PHYTO PROTEIN: Strengthens the hair shaft, enhancing its resilience and vitality.
PHYTOSTEROLS: Stimulate hair growth, promoting a luscious and voluminous appearance.
Experience the power of these carefully selected active ingredients in our Oats Calming Shampoo, providing your dog with a soothing and revitalizing bathing experience.
Organic and vegan certified by

Ecogea.org

≥ 98,5% of Ingredients from natural origin
Filled in 100% compostable Veganbottle®
Tearless, hypoallergenic ingredients
Allergen-Free fragrance
Promotes overall coat and skin health
Increases coat thickness
Beneficial for all coats and skin types
Highly concentrated – Follow the user´s instructions for the best results on the original product´s listing
WHAT´S NOT IN IT
GMOs and cancerogenic substances

Ethanolamine Compounds (MEA, DEA, TEA, and others)
Mineral Oils

Parabens

Petrochemicals

Phenoxyethanol

Phthalates

Polyethylene Glycol (PEG)

Propylene Glycol (PPG)

Silicones

Sulphates

Synthetic Dyes
Triclosan
Why a "NO Nasties pledge"?
We firmly believe that investing in quality and certified organic products for your pet means investing in their health to ensure prosperity and well-being.
Specifically, we're proud to say that all Doglyness products are free from any of the ingredients listed here, which are instead common in most commercial pet shampoos and conditioners, and that can turn out to be harmful in the long run.
JOIN OUR PLASTIC-FREE MISSION: RESPONSIBLE PACKAGING
We are proud to be the first pet brand in the industry that uses the patented Veganbottle®, a revolutionary packaging made from 100% raw compostable materials, including bottle caps and labels. Our commitment to sustainability extends beyond the bottle itself, as we actively combat plastic pollution by banning non-sustainable materials throughout our entire production, packaging, shipping, and storage processes.
Learn more about our Plastic-Free pledge and discover how we're making a positive impact on the environment. When you place an order, plastic pumps and closures will be provided separately at no extra cost with your first purchase. We encourage you to save and reuse these pumps and closures for future orders, as we strive together towards a plastic-free future and a greener planet.
The Doglyness Way
At Doglyness, we see it as our duty and responsibility to do everything within our power to offer you the most sustainable option for all your pet grooming needs. The pet grooming industry has traditionally had a rather large footprint, and we know we can—we must—do better! This is why we've done our research and found effective ways to deliver the highest quality products without costing the Earth. For Doglyness, effective natural dog products go hand in hand with respect for people, animals, and nature.
Beautiful Formula
I'm not a professional groomer but I do groom my own Standard Poodle. I first tried the Immortelle shampoo and loved it. Wanted to try the Oats, even though my pup doesn't have any issues with dryness or itchy skin. I found it to be even more amazing for her coat. Grooming her after bathing, the clippers just glided through like skis through fresh powder. I find her coat looks even shinier and healthier, which is not easy to notice because she's creme color with also some white areas. Her coat is also beautifully soft! The expense may prove to be totally worth it for the added benefits to my Premdelacreme's coat. And the customer service (special thanks to Sara,) is beyond amazing! Thanks guys!
Game changer
Words can't describe how amazing oats line is just wow . I started using this product mark of 2023 and I have fallen head over heels for this product, from the first time I use this shampoo and the conditioner i notice immediately the difference in my poodles coat . Rua is an fawn apricot medium poodle as it has really helped his coat especially
During coat change when I have to cut him way down due to how damaged his hair was . I honestly thought I would never get him as fluffy again or it would take so so long as he had holes in his coat as I was desperately trying to not shave him down . In 3 months his coat has not only sprouted with fur but his condition of his coat was Incredible and so healthy. I have now finished showing Rua but I refuse to use anything other than doglness as I love there quality in there products and it has really made me as a groomer and pet owner think about coat health and ingredients in products. I couldn't be more happier that I found doglness and it really has been a game changer for Rua . I use this product even in the salon for dogs who have sensitive skin and it has made such a change . I couldn't recommend doglness enough. Regards Diana
Better than any medicated shampoo I've ever used.
Beyond the results I've seen with every dog I've used this on, I bathed a very nervous dog with thinning hair and very irritated skin and watched her whole body relax after the shampoo set on her for a few minutes. I also have a rescue that had only been bathed with flea shampoo her whole life - after one use, her skin calmed down and she doesn't lick her feet anymore. It truly stimulates hair growth as well, her thin coat started building back up in a week's time. Worth every single penny and it's beautiful seeing the instant relief it provides.
Love Oats
I bought this shampoo and conditioner for my Reeves mini poodle, since after starting a veterinary treatment he began to shed all his skin while the quality of his hair plummeted increasingly fine, woolly, matte and colorless, so I decided to try Doglyness since the last thing I wanted was to add more chemicals, parabens, and silicones to her skin and hair, and I couldn't make a better decision, little by little her skin finished its shedding, giving way to fully hydrated skin, and in good condition, his hair grew healthy and strong again, with its characteristic shiny black color thanks to Oats Calming Shampoo and Oats Calmig Conditioner, in addition to accompanying him with small hair cuts every 2 weeks, the results were not long in coming . Once he was the same as always, I gave him his weekly maintenance with Inmortelle Rejuvenating Shampoo and Inmortelle Rejuvenating Conditioner and I couldn't be happier.
But without a doubt the most spectacular result that I have experienced with Oats Calming Shampoo and Oats Calming Conditioner has been with my mini black Schnauzer Lily, after a long time with problems of undetected food allergies, Lily lost a lot of hair on her legs, chest (those areas where stripping was not done), the hair that remained was gray and with an aged texture, and despite the many products that I tried on her, although her skin had recovered, the quality of her hair was never the same again. I started using them with her without much expectation, simply because it is the type of cosmetic I want for my dogs, and the results have been amazing, her hair has recovered a texture typical of its age, the color is once again black and slightly little by little, hair is growing in areas that I never thought I would recover again. The only thing I regret is that I don't have before and after photos of Lily, since I did not expect to obtain these results, not because I doubted Doglyness products, I simply believed that she It had very little room for improvement.
For those who may hesitate to use them on wire-haired dogs, I can only say that the quality of her hair has not decreased one iota, I would say that it is better than ever, perfect for stripping with exceptional color and texture.
I love Doglyness, for its results as well as for what it stands for.