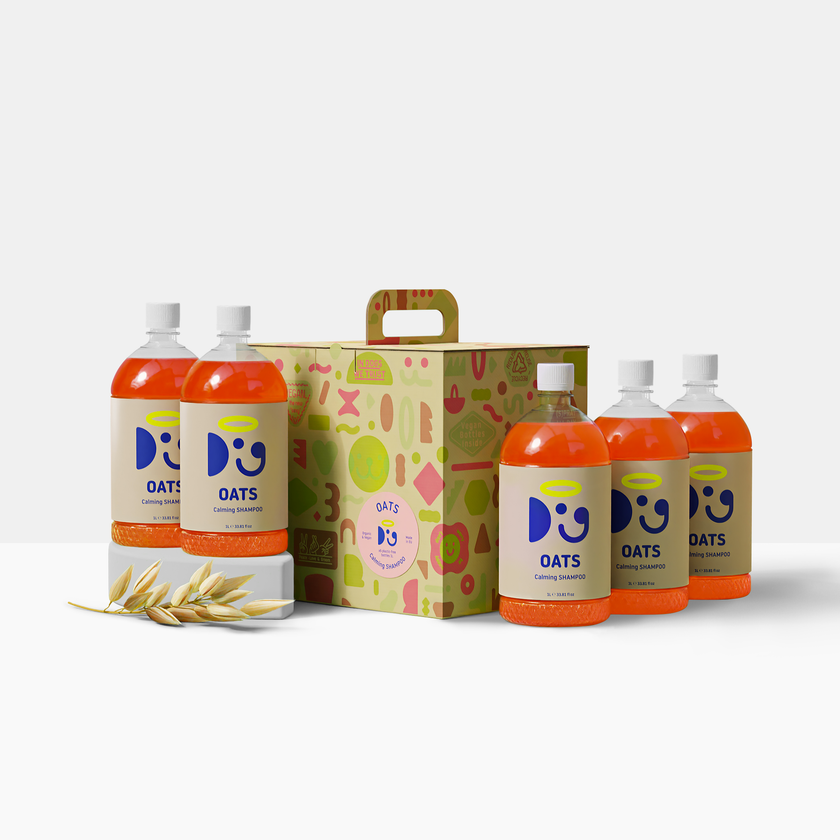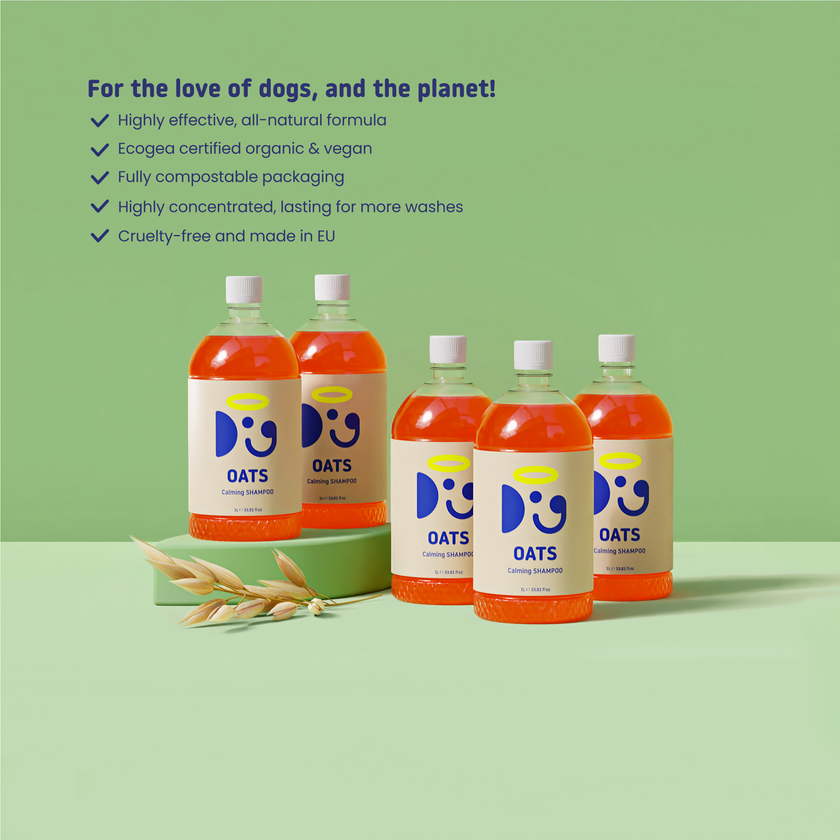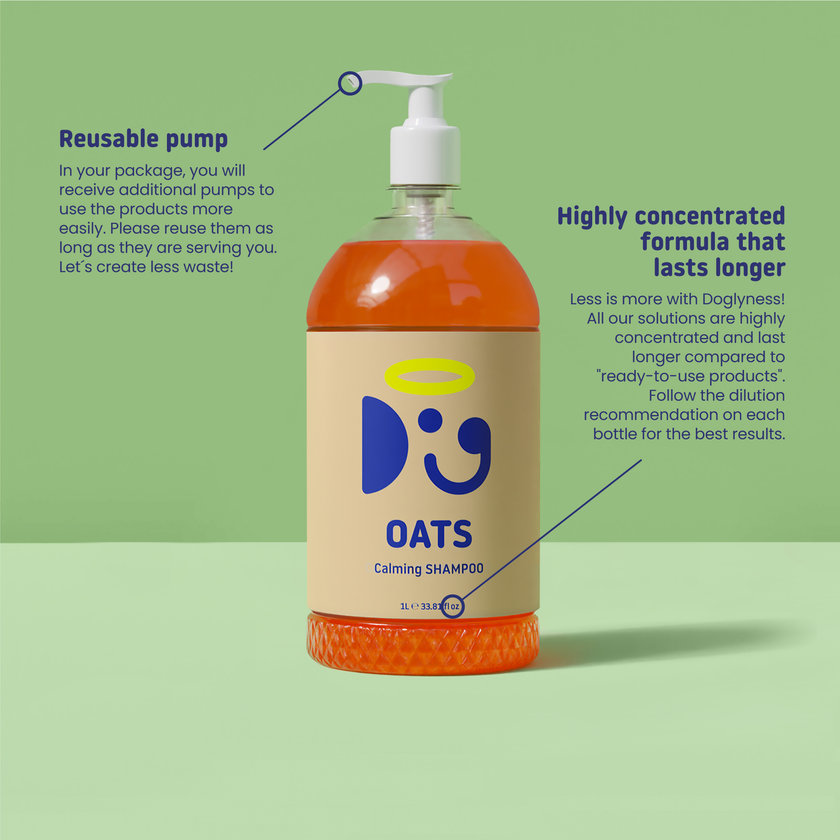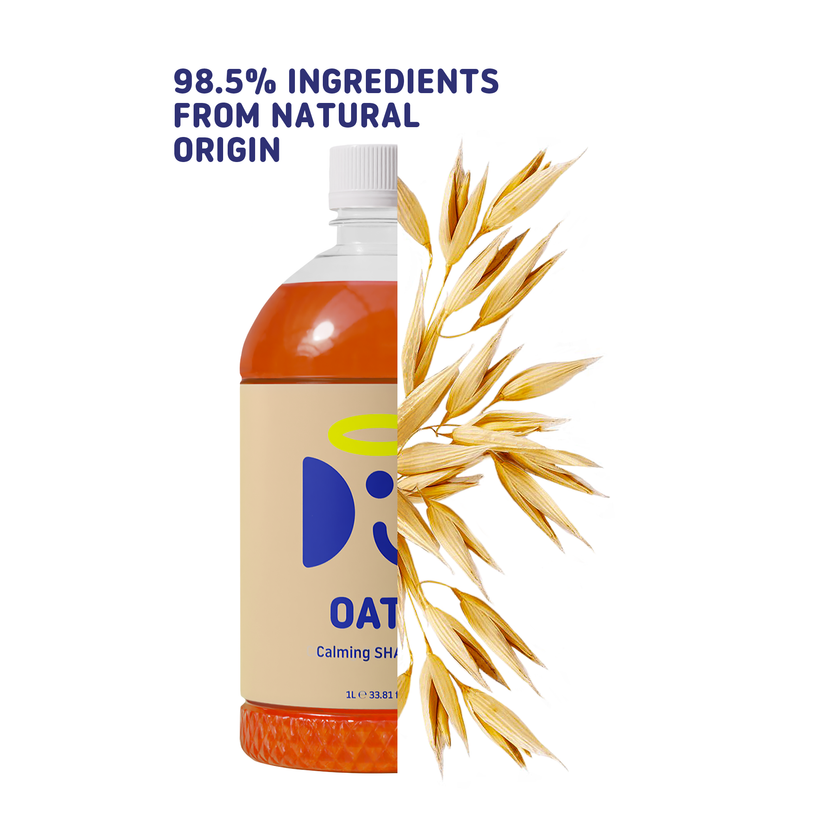 OATS Calming Shampoo 5L - Groomers set
KEY BENEFITS OF THIS GROOMERS SET
With our 5L groomer sets, every dog that enters your salon can be pampered with ethically sourced, proven effective organic and vegan-certified products. Our OATS calming shampoo is made from the highest quality ingredients from the EU, and officially verified by Ecogea Institute. You will always have fresh product on hand with an extended shelf life, so each bottle can be opened only when you really need it. This is a great alternative to large 1-gallon bottles where you need to use all the product up within a given time. Unopened, the product in our bottles can last for 2 years on the shelves, and after opening, will last up to 1 year. OATS shampoo can be diluted up to 1:25, so a little goes a long way! Each 1L bottle, label and cap is entirely compostable, plus we've sourced new, stronger pumps that you'll get inside the box as well.
Prepare shampoo with lukewarm water in the dilution ratio up to 1:25 (depending on the level of coat dirtiness and type). Mix well to create a creamy foam and apply liberally on a wet coat. For optimum results, massage gently for 3-5 minutes to allow botanicals to do their work. Rinse thoroughly and repeat if necessary. Use less diluted shampoo only on a very dirty coat.
Aqua*, Aloe Barbadensis Leaf Juice*/**, Lauryl Glucoside*, Coco-Glucoside*, Glycerin*/**, Cocamidopropyl Betaine*, Capryloyl/Caproyl Methyl Glucamide*, Lauroyl/Myristoyl Methyl Glucamide*, Hydroxypropyltrimonium Inulin*, Polyglyceryl-10 Caprylate/Caprate*, Glyceryl Oleate*, Colloidal Oatmeal*, Benzyl Alcohol, PCA Glyceryl Oleate*, Fragrance (Allergen-Free Composition)*, Crambe Abyssinica Seed Oil*, Sodium Chloride*, Dehydroacetic Acid, Citric Acid*, Phytosterols*, Oleyl Alcohol*
* Ingredients from natural origin (98,5%)

** Ingredients from organic agricultural source (20%)

Certified organic and vegan by Ecogea.org
COLLOIDAL OATMEAL (GLUTEN-FREE)

- anti-inflammatory

ALOE VERA

- hydrating

AGAVE INULIN

- fights frizz

CRAMBE ABYSSINICA SEED OIL

- boosts elasticity

PHYTO PROTEIN

- strengthens

PHYTOSTEROLS

- hair growth

GLYCERINE (PLANT-DERIVED)

- retains moisture & protects


PCA GLYCERYL OLEATE

- anti-static
Ethanolamine Compounds (MEA, DEA, TEA, and others)
GMOs and cancerogenic substances
Mineral Oils
Parabens
Petrochemicals
Phenoxyethanol
Phthalates
Polyethylene Glycol (PEG)
Propylene Glycol (PPG)
Silicones
Sulfates
Dyes
Triclosan
We are proud to be the first pet brand in the industry that uses patented veganbottle® made with 100% raw compostable materials, including bottles, caps and labels. Our bottles do not contain harsh oil ingredients and plastics and are made through a complex process of extracting sugar cane and plant combinations. We combat plastic pollution by banning any plastic or non-sustainable materials used in production, packaging, shipping, and storage. Our mission and goal with compostable packaging is to inspire the pet care industry to switch to sustainable options and provide groomers with high-quality, effective products that are also planet-friendly!
The Doglyness Way
At Doglyness, we see it as our duty and responsibility to do everything within our power to offer you the most sustainable option for all your pet grooming needs. The pet grooming industry has traditionally had a rather large footprint, and we know we can—we must—do better! This is why we've done our research and found effective ways to deliver the highest quality products without costing the Earth. For Doglyness, effective natural dog products go hand in hand with respect for people, animals, and nature.
Best shampoo I've ever or ever will of used
I've been using Doglyness products on my personal dogs as well as my client dogs. This stuff cuts through any grease, dirt or grime with just a few drops of product. Watch the icky dead skin And dirt melt off the dogs coat but preserving the integrity of the coat. Healthier hair growth , less tangles if any at all with regular maintenance. Love love love this stuff!
The shine is AMAZING!!!
I've used this shampoo on a few of my show poodle clients for two months now as well as my own dog. The results are amazing the poodles have minimal tangles if any at all. My own dog is an American Pit Bill Terrier he has had skin issues forever. This shampoo has given him a shine I've never seen before and calm skin too! We love #Doglyness!! 💜